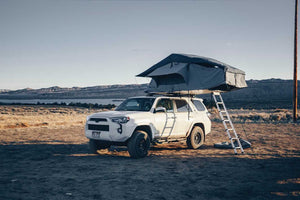 Why Rooftop Tents Are Ideal for Road Trips and Exploring State Park Campgrounds
Rooftop tents are a great option for all sorts of camping, from impromptu road trips to carefully planned explorations of state park campgrounds.
Whether you want a no-frills primitive camping experience or one with a few more amenities, a high-quality rooftop camping tent makes it possible. And no matter what kind of tent campgrounds near you may be available, a rooftop tent will make it easier to camp there. Their ease of use and transport, along with many other benefits, make them popular among all types of camping enthusiasts.
Camping continues to increase in popularity, research from Kampgrounds of America's 2022 North American Camping Report indicates. Having more dependable and comfortable tent options, like rooftop tents, only makes it easier to enjoy all kinds of camping.
Let's take a closer look at what makes rooftop car tents so useful for both road trips and exploring state and national park campgrounds. We'll start by highlighting some foundational benefits of car camping tents, then look at why those advantages are so important for road trips and state park camping.
Why Rooftop Tents are Better for So Many Kinds of Camping
Why are rooftop tents so popular? And why does that popularity carry over across so many different campers and types of camping? Rooftop tents are:
Convenient to Store and Set Up
The right rooftop tents (including all of ours) are easy to set up and take down. They also have a small packed size, saving space in or on a vehicle fully loaded for camping. That means less hassle and more time to enjoy the trip.
Increased Comfort
A rooftop tent means you don't have to worry about finding perfectly flat or totally dry ground to start setting up your tent's aluminum poles. You'll keep yourself warmer in colder temperatures by avoiding close contact with the ground, too. It's easy to make the interior space comfortable and even cozy.
More Emphasis on Safety
Rooftop tents keep you close to nature, but also provide a little more separation than a standard tent. No one wants to be startled awake by a large or potentially dangerous wild animal.
A rooftop tent is less attractive to curious animals than a tent on the ground. The vantage point such a tent provides also makes it easy to scan your surroundings whenever you leave it. When properly installed and maintained, rooftop tents are safe, comfortable, and stable.
Additionally, rooftop tents do all of this without sacrificing any of the heavy-duty weather resistance that is so common in other types of tents.
Of course, you can always set up your camp chairs directly on the ground to get a little closer to nature.
Focused on Versatility and Ease of Use
Rooftop tents only slightly expand on the footprint of your vehicle, no matter where you choose to camp.
With less space needed, it's easier to find a suitable camping site whether on a state park campground or while road tripping.
Rooftop Tents and Road Trips
A camping road trip might be carefully planned or much more of a freewheeling affair. Either way, a rooftop tent minimizes your footprint during your travels.
If you decide to set out on the road with no real agenda and only an idea of a destination, your rooftop tent can be a valuable asset.
In cases where you don't make reservations, you may be keeping a closer eye on primitive camping options. These simple sites are often relatively accessible by car, even if they offer few other amenities.
USA Today explained how primitive camping keeps increasing in popularity, especially with campgrounds generally seeing more and more visitors in recent years. Setting up a rooftop tent keeps your footprint small on these sites. This also helps to avoid the additional disruption of assembling a tent on the ground.
Even if you have an itinerary in place and reservations at campgrounds made in advance, a car camping tent still makes camping more fun and less work. It's easy to get your tent ready, and the process of assembly and disassembly can each be as brief as one minute.
Rooftop Tents and State Park Campgrounds
National and state park campgrounds are popular options for camping, and understandably so.
These parks are versatile. The largest can offer everything from a "glamping" experience with a full range of amenities to areas where you may be the only person or group for miles around. 
And their natural beauty is hard to compare. National and state park campgrounds are generally within protected areas that were selected because of their positive qualities. That includes the overall appeal of the land as well as the parks' ability to support a variety of recreational outdoor activities.
Because these parks are located in popular areas, actively managed, and generally inexpensive or free compared to other options, they attract plenty of visitors. Finding a campsite that can accommodate a vehicle, full-sized tent, and any other camping furniture and accessories can be difficult.
With a rooftop tent, it's easier to make even a small campsite enjoyable. Your tent's footprint will not extend far beyond that of the vehicle needed to bring you to the park. That leaves more room for your camping chairs, tables, and anything else you want to bring along for the trip.
We know switching from a ground-level tent to a rooftop camping tent can be a little bit of a transition at first. That's why we've put together this helpful list of car camping tips and tricks.
Find a Rooftop Tent You Can Count On
Rooftop tents make it easier to camp, whether on a road trip or a planned visit to a state park campground. These dependable tents do so while keeping you close to nature and all of the fun these trips have to offer.
Finding a great rooftop tent doesn't have to be difficult — or break the bank. At Hutch Tents, we keep costs low while emphasizing overall quality. Check out our
collection of rooftop tents
today!
---