This section doesn't currently include any content. Add content to this section using the sidebar.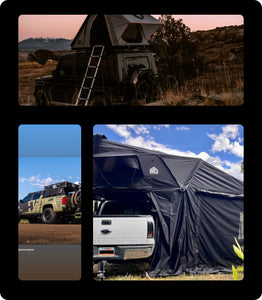 OUR STORY
The best experiences are the ones you create.When I started shopping around for my first rooftop tent, I quickly realized that to get the quality I expected, at a price that wouldn't break the bank, I'd need to build it myself. So I set out to do just that.For months, I vetted dozens of different fabrics and designs until I found the ideal combination of simplicity, comfort and durability. Then I formed relationships directly with the manufacturers, so that I could cut out the middlemen and keep price as low as possible. The result was a tent I was truly proud to call my own. Soon, friends and family started asking me if I could make the same tent for them too. Word spread, and Hutch Tents was born.
Benefits of Overlanding Roof Top Tents
Camping trips are double the fun when you have a cozy roof top tent instead of a ground tent. Spending the night on the cold, hard ground is no fun. And you don't have to anymore, when you can convert the roof of your car to a comfy tent for the night! Hutch Tents offers reasonably priced roof top tents that are reliable, durable, and easy to set up.
But what advantages do truck tents have over regular tents? These are just a few:
Comfort
One of the key benefits of a roof top tent over other types is undoubtedly the comfort. Sleeping on a mattress off the roof of your car is far more comfortable than one on the cold, rock hard ground.
Safety
Safety is another crucial merit of a roof top tent. While it's not a completely solid structure, a tent pitched high above the ground provides better safety and a sense of security. Bears and other animals are highly unlikely to climb a car. Fun fact: Roof top tents were invented to keep overlanding campers safe from wild animals in the African deserts.
Quick and Easy Set Up
Roof top tents are a great option provided they're easy to set up. Hutch tents are not only warm and cozy but also offer a quick and easy set up so you spend less time on labor and more on enjoying the magnificent roof top experience, particularly at nighttime!
Convenience for Overlanding and Camping
They're well suited for any type of camping or outdoor adventure, especially for overlanding or road trips. All you have to do is find the perfect place to park your vehicle and then set up the tent on top. Combing the campgrounds for hours in search of the perfect ground spot to pitch your tent is now a thing of the past, with our roof top tents.
EXPERIENCE
1
FAST SETUP & TAKEDOWN
Our roof top tents can be fully assembled and disassembled in 60 Seconds. The last thing we want to do is take you away from your adventure.
2
DURABLE MATERIAL
Hutch Tents are made of high-quality rip-stop 420 polyester canvas W/R, along with waterproof 2000mm, mold and mildew resistant and UV protection cover.
3
AFFORDABLE PRICING
We've done the research so you don't have to. Durability and affordability is key to your outdoor experience. Our mission is to provide the best quality roof top tents at the best price. Period.
Shop all tents
JOIN THE JOURNEY
Interested in becoming a reseller or brand ambassador? Contact our support team for more details to start blazing your own path with Hutch Tents.
CONTACT US
Spend Camping Nights atop your Vehicle in Safety, Security, and Comfort
Roof top tents are the perfect addition to any adventure expedition. Fit a collapsed tent onto your vehicle's roof rack and take off to an exciting outdoor site. Enjoy the journey and then as the day comes to a close, simply unfold it, and mount it to the roof of your vehicle. The cozy tent at an elevated height set against the backdrop of the glittering night sky can completely elevate your escapade. Moreover, as the tent is set on your vehicle's roof, it provides a sense of security, somewhat similar to sleeping in your vehicle but with a much higher level of comfort! Quite a welcome
more about us
STAY COMFY OUTDOORS WITH THE BEST OVERLAND TENTS ON THE MARKET
Good gear makes life easier. Signup and receive special & exclusive offers on new products.