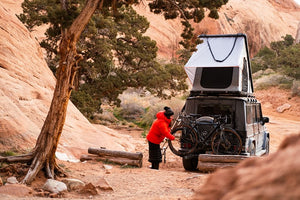 6 Unique Car Camping Tips and Tricks
Investing in a roof top tent can truly change your camping game. It makes for a more convenient set up and efficient packing experience. Since this isn't the traditional way to go about enjoying the great outdoors, however, there are a few car camping 101 tips and tricks to consider. With these suggestions, you maximize your car camping road trip and relax with ease.
Here are some of hte best car camping tent hacks to remember for your next adventure: 
1. Be Strategic About Car Placement
One of the most important aspects of car camping is making sure your vehicle is on level ground. Survey your campsite for the most level surface to park your car before setting up your tent. 
2. Keep a Plastic Bag Handy For Shoes
Going from ground level to tent level can be difficult when you don't have a place to put your wet and muddy shoes - the last thing you want to do is trail dirt into your sleeping space. Keep a bag tied to the top of the ladder so your shoes have a place to stay while you're in the tent. 
3. Invest in Sheets to Absorb Condensation
To avoid condensation dripping on you while you sleep or relax, install wool sheets along the vertical walls of the tent. This is a simple way to absorb the moisture and can make for a more cozy and comfortable atmosphere. 
4. Get a High Quality Memory Foam Topper
A warm sleeping bag will come in handy when you're using a car tent, but a memory foam mattress topper can be the difference between a rough night's sleep and a quality one. 
5. Bring a Buddy for the Trip
You may view your car camping setup as a one person tent, but bringing someone along for the trip can make navigating the tent much easier. A camping buddy can make setting up camp and getting in and out of the tent simple to achieve.
6. When Camping Alone, Pack a Step Stool
If a solo trip is in your near future and you don't have plans to bring along a friend for the ride, make sure to pack a step stool. This can make it easier for you to set up the tent on your own and can help you hoist yourself onto the ladder if you're too short. 
7. Change Plans for Inclement Weather
Nobody wants to watch their camping plans get cancelled, by high winds and torrential downpours can put a major damper on your car tent camping experience. 
Are you ready to invest in a roof top tent? Hutch Tents roof top tents have the perfect amount of interior space to ensure comfort and stability during your camping trip. Check out our hard shell and soft shell tents today. 
---