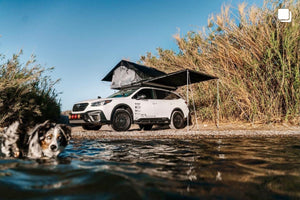 You Don't Need a Truck to Have a Rooftop Tent
If you're an avid camper—or even an occasional camper—you've probably gazed enviously at a lofted, rooftop tent that crowns the top of many pickup trucks.
And if you're a non-truck-owner, you probably imagined that those tents were outside of your realm of possession due to vehicle limitations.
If this description sounds like you, we've got great news.
With savvy design and clever engineering, a rooftop tent is no longer exclusive to pick-up trucks.
In fact, no matter what you drive, you can find car roof tents that work with your vehicle
Interested?
Read on to learn more about which rooftop tent is right for you and your vehicle.
Rooftop Tent for Families
It's no wonder that rooftop tents are gaining in popularity. Given the travel restrictions of the past two years and the stay-at-home orders, people are searching for new experiences that offer an escape from their all-too-familiar four walls.
And while camping has always been a family go-to, camping with a rooftop tent removes much of the complexity from the actual setup: No stakes to ground, no knots to tie.
If you're looking for the perfect rooftop tent for your family, be sure to find a tent that sleeps four and offers enough room for two queen size beds. These tents can come equipped with a variety of other options like a rainfly, separate entrances, and room dividers.
All you need to do is decide what matters most for your family and your camping location and you've got yourself a vacation on-the-go.
Rooftop Tent for Small Cars
If you have a sedan or wagon that errs on the smaller side, don't fret: You can still find a rooftop tent that is perfect for your needs.
As you shop around for a rooftop tent that will work with your dimensions, keep in mind that you don't have to sacrifice space for size.
In fact, you can find a small car rooftop tent that comfortably sleeps two and packs away faster than you can say car roof tents.
Hard Shell versus Softshell Rooftop Tent
Now that we've discussed some rooftop tent options for those among us who don't drive trucks, let's explore the biggest differentiator among car roof tents: Shell structure.
Hard Shell
Hard shell tents have a firm exoskeleton made from a hard material like fiberglass. These car roof tents open vertically and come in a number of styles.
Ideal for individuals or couples, these tents provide better protection against the elements, are easy to set up, and are more durable than their soft counterparts.
Soft Shell
These tents often resemble a classic ground tent when they're set up, with the tent body made from a thick, waterproof material. The body then attaches to a platform.
Soft shell car roof tents are fan favorites for their size, easy packing characteristics, and ability to provide a shaded area to campers.
Rooftop Tent Conclusion
Deciding which rooftop tent is right for you takes a realistic assessment of your travel plans. If you're a warm-weather camper with a family, a soft-shell tent is probably the choice for you.
If you're a solo adventurer with an eye toward the extreme, you may want to invest in a hard-shell tent.
Either way, whichever tent you choose can easily attach to your vehicle, allowing you to go wherever whenever the great outdoors calls.
Ready to start your next adventure?
Shop our selection of rooftop tents today.
---