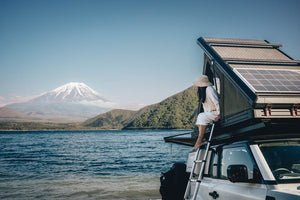 What is Overlanding vs. Camping?
Are you a nature lover, outdoor enthusiast, or adventure seeker? Then camping and overlanding may be a pastime for you. While both are outdoor activities, they have some essential differences and can be easily confused. 
Today, we're going to show you the differences between camping and overlanding, define overlanding, and discuss some necessities of the activity. You'll be left with a better understanding of each activity. 
What is Camping?
Camping is a popular outdoor recreational activity. It's fun for people of all ages, families, and even solo adventurers.  
Camping involves staying in a tent, RV, or cabin and enjoying nature, hiking, and other outdoor activities. Camping takes you away from the hustle and bustle of the city and allows you to relax outside. 
Camping can be less expensive than overlanding, as you don't need to buy any gear that needs extensive modifications. You can purchase a tent for under a hundred dollars or even find free equipment online. 
What is Overlanding?
Unlike camping, overlanding is a more extended journey that involves driving long distances through remote locations with the purpose of exploration. The overlanding definition is simply to travel overland, but, for outdoor enthusiasts, overlanding meaning is a little different. 
Overlanding is an adventurous activity that requires specialized gear and equipment, such as an off-road vehicle and a rooftop tent. Some overlanding adventurers will purchase extra equipment designed to make the experience more comfortable like a shower, a fridge, or a portable toilet. Gear like this allows you to be self-sufficient, travel off the grid, and stay in remote locations for long periods.
Differences Between Overlanding and Camping
The main difference between overlanding and camping is that overlanding combines your transport with your shelter. An overlanding vehicle can take you to many different locations, no matter how remote.
With an off-road vehicle capable of carrying everything you need, you can travel far distances and camp in some of the wildest and most beautiful places in the world. You won't be restricted to popular or public camping spots and can get away from the crowds. 
On the other hand, camping typically involves driving to a location, pitching a tent, or parking an RV. You can't always get your vehicle to remote locations with conventional camping gear. This means that most campsites with running water, electricity, and other essential amenities are usually situated near civilization.
Similarities Between Overlanding and Camping
Both overlanding and camping offer fantastic experiences that encourage outdoor adventure, relaxation, and exploration. Both involve enjoying the natural environment, cooking food around a campfire, and spending quality time with your family and friends in the great outdoors.
What is the Difference Between Overlanding and Off-roading?
Many people mistake overlanding for off-roading, seeing the two as interchangeable terms. But they have some essential differences. 
Off-roading is an activity where you take a 4x4 vehicle or other off-road capable rig and traverse through rugged terrain. For example, you might take your rig to a designated off-road trail, drive through a state forest, or explore private land. 
Off-roading frequently generates Mud, loud exhaust sounds, and dust clouds and typically lasts a few hours or less. 
Overlanding is more of a long-haul exploration of remote destinations that are not accessible by traditional modes of transportation.
Is it Better to Overland With or Without a Trailer?
Whether or not to use a trailer during an overlanding trip has been of great debate in the outdoor community. Some outdoor enthusiasts believe that an off-road trailer is a necessity, while others prefer to stay minimal with a rooftop tent. 
The decision to use a trailer or not is dependent on the individual's interest, lifestyle, and available budget. A trailer provides additional storage space for supplies, gear, and food without worrying about weight distribution inside a vehicle. Also, trailers are incredibly convenient as you don't have to break camp every time you take a day trip elsewhere. 
On the other hand, without a trailer, you can focus on traveling light and finding a more adventurous trail that may be otherwise inaccessible. You are more nimble, easily adaptable to road situations, and generally travel lighter without a trailer. 
What is the Cost of Overlanding?
The overall cost of overlanding depends on various factors like the vehicle type, the length of the trip, the gear and equipment needed, and the mode of transportation.
Knowing that overlanding involves traveling to far-off places and camping in remote areas, planning for an overlanding trip requires a larger budget than traditional camping. For some enthusiasts, the cost of their vehicle acquisition and modifications can be well over $150,000. 
Beginners, however, may purchase a used 4x4 vehicle and modify it with equipment like rooftop tents. Depending on the availability of equipment, the overall cost to modify a 4x4 vehicle could be anywhere between $1,000 and $20,000. Obviously, the overall cost can vary depending on the length of the trip. 
For those looking to not blow their budget but still have a comfortable and reliable place to sleep, we recommend our series of rooftop tents. 
Overlanding, Camping, or Off-roading?
Overlanding and camping are both great ways to explore nature and do have some similarities. But they also have essential differences.
Camping is for taking a break from a busy life without getting too far from civilization. You can camp in a campground that has running water and showers and other people around. Overlanding, on the other hand, is a real adventure that requires forethought, planning, and specialized gear.
Whether you enjoy the rugged 4x4 experience, road trips, or just a weekend away, you can choose an activity that suits your specific preferences.
As with anything in life, preparation is critical, so take the appropriate steps to ensure that your experience is safe, enjoyable, and memorable. Get the right gear, plan your trip out in advance, and make sure you tell someone when you leave and when you expect to be home. 
We hope this article has helped you better understand the difference between overlanding and camping and which activity you might prefer. Happy travels!
---