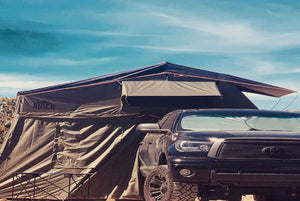 The Versatility of Roof Top Tents: Suitable for Any Adventure
Roof top tents are becoming increasingly popular among outdoor lovers and campers. Many prefer a roof top tent because it can be set up in your vehicle's trunk and provide a comfortable place to camp out and spend the night. Most tents come in a hard shell, but some are soft shell tents.
Hard shell roof top tents have a more robust and stable structure, making them best for handling storms or harsh weather conditions. Soft shell roof top tents are made of fabric and are not as waterproof as a hard shell tent. However, the soft shell tents work well for short term use.
If you are considering investing in a roof top tent, it is essential to know the advantages of roof top tents and why to use a roof top tent.
Why Choose a Roof Top Tent Over Other Camping Methods?
A roof top tent is a folding tent, but it attaches to the roof of your vehicle. They are self-contained and are packed into a hard shell container and they come with a ladder. Roof top tents, compared to other camping methods, are often preferred by campers because they are comfortable, affordable, and convenient.
These tents do not take up much space in your vehicle when they are packed up. When the roof top tents are opened up to use, they expand into full sized tents.
Roof Top Tent Advantages
There are many roof top tent benefits, which often makes this type of tent preferable for campers or outdoor lovers. Roof top tents are convenient, as you can use it at a campground, in a parking lot, or anywhere you can park. Besides convenience, these tents offer many more advantages.
1. Simple to Set Up and Take Down
Anyone can handle setting up or taking down a roof top tent because it is so simple. Only one person is required for the assembly and disassembly of the tent.
When taking the tent down, the foam mattress folds up inside of the tent. You can even leave your bedding on the bed when putting it away, as it can also be easily stored inside. Everything can easily be folded up and stored in the container so you can conveniently set up everything you need the next time you use it.
2. Comfortable and Cozy
Roof top tents are comfortable. They usually come with a quality foam mattress, and the tents have mesh windows and doors for good ventilation.
The combination of the comfortable bed and the well-ventilated windows make for a good night's sleep. Some tents even have a window on the roof of the tent, so you can see the stars at night, or you can use the window to take advantage of extra sunlight during the day.
3. Safe from Animals and Critters
Since you are off the ground when using a roof top tent, animals or critters have more difficulty finding their way to you.  Some insects like spiders, scorpions, and ants will have a harder time crawling up to your tent during the night.
You access the tent using a ladder, so it is unlikely that any critters will find their way up to your tent. You can remove the ladder at night if you are worried about animals and want to ensure you are out of reach.
4. Durable
Roof top tents are durable. They are waterproof, mold-resistant, UV resistant, and designed to withstand the elements. Roof top tents are three or four-season tents and are made from a coated denier canvas, which makes them able to protect you during rain, hail, sleet, or other difficult weather conditions. If cared for properly, your roof top tent can last for decades.
5. Fits Most Vehicles
A roof top tent is designed to fit most vehicles. Whether you have an SUV, truck, compact, sedan, or a trailer, a roof top tent should fit your vehicle. When mounting to a trailer, you will need a good roof rack, but overall it should fit just fine.
You should always check your vehicle's safety recommendations before attaching a roof top tent to your roof rack to ensure it can handle the weight.
6. Amazing View
When using a roof top tent, you are elevated and are not on ground level. Since you are higher up, you have a better view of your surroundings. If you camp somewhere with a beautiful view, you can park your vehicle there and enjoy the view from your tent.
Are Roof Top Tents Worth It?
They offer many benefits, such as comfort, safety, durability, and easy set up and break down. They are affordable and can be used on various vehicle types, camper trailers, RVs, and travel trailers.
You can use a roof top tent for any occasion, such as an outdoor concert, a camping trip, or you are parked somewhere scenic to enjoy the view.
Are Roof Top Tents Safe?
Roof top tents are very safe. They protect you from harsh weather, animals, and insects. A roof top tent is high up and not on ground level, making it more challenging for critters to find their way into your tent.
While it is reassuring that your tent is safe from animals and insects, it is also good to feel safe from the weather. Whether it is raining, hailing, or windy, your roof top tent will keep you safe because it is extremely durable.
Final Thoughts
Roof top tents are perfect for camping or spending time outdoors, as they are comfortable, durable, convenient, and safe. Even if you aren't much of a camper, you can feel comfortable camping using a roof top tent because they help keep away bugs, animals, and offer a cozy place to sleep. Check out our collection of roof top tents!
---