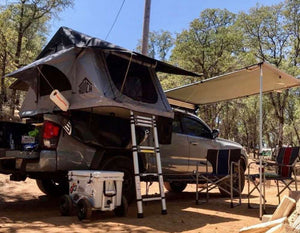 Roof Top Tent Camping in Utah: What You Need to Know
Utah's stunning natural landscapes and environmental splendor make it a necessary stop on your camping excursions. It's the perfect place for a picturesque all-American vacation with family members, friends, or even on your own for a serene solo trip.
From biking and hiking to ATV riding and fly fishing, there are so many fun ways to explore the great outdoors and soak up the beauty of the Beehive State.
But where should you camp in the state, and is roof top tent camping in Utah an option? Do you need to reserve a spot at a campground in Utah? Here's everything you need to know before hitting the road.
Utah Camping Spots: Where to Camp
Searching for Utah State parks for camping? Here are a few to consider on your trek through this mountainous state:
Palisade State Park
Located in Sterling, Utah, on Manti-La Sal National Forest grounds, Palisade State Park offers both full hookup sites and non hookup sites depending on your personal camping experience preferences. Beyond hanging out in your roof top tent, you are encouraged to explore the lands via hiking, OHV riding, fishing and more. You can even check out the Palisade golf course, known as "one of Utah's true golf gems" based on its location and scenery.
Goose Island Campground
Head to Moab for some riverside camping at Goose Island Campground. Enjoy views of the Colorado River and other gorgeous natural scenery. Campers of all kinds, whether in a traditional tent, roof top tent, RV or trailer, can catch a campsite on a first-come-first-serve basis.
This makes it very convenient for someone with a roof top tent. Without the hassle of packing up a tent, RV or trailer, you can plan a last-minute camping experience and grab a site if it's available. Larger groups of campers may reserve a spot, but those spots are limited.
Sand Flats Recreation Area
You might consider Sand Flats Recreation Area the ideal camping location for roof top tent campers. It's located in the middle of the Colorado Plateau, making it one of the most popular and treasured spots for sightseeing and camping. The backdrop consists of sand dunes, canyons, mesas and mountains, which can be accompanied by breathtaking views of the sunset every night.
Can You Use a Roof Top Tent in Utah?
Yes! Roof top tents are acceptable across Utah.
And you don't necessarily need a campsite to indulge in the beauty of Utah's scenery. There are dozens of primitive areas for camping across the state that make it simple for a roof top tent camper to enjoy the camping experience without paying for an unnecessary spot.
Other Rules to Keep in Mind
It's important to remember that while Utah is loaded with gorgeous landscapes galore for roof top tent camping, there are still rules and regulations to follow.
The U.S. Department of the Interior Bureau of Land Management manages the public lands in Utah that visitors are allowed to explore and visit throughout the year. BLM camping in Utah consists of both primitive and developed campgrounds - giving options to all types of campers staying in traditional tents, rooftop tents, campers or RVs.
The BLM also imposes stay limits across all Utah public land. This means that you can't exceed 14 days in a single campsite within a 28-day time frame:
"The 14 day limit may be reached either through a number of separate visits or through 14 days of continuous overnight occupation during the 28 day period. After the 14th day of occupation, the camper must move outside of a 25 mile radius of the previous location until the 29th day since the initial occupation.
The purpose of this special rule is to prevent damage to sensitive resources caused by continual use of any particular areas. In addition, campers must not leave any personal property unattended for more than 10 days (12 months in Alaska)."
Another rule that can apply directly to roof top tent campers who don't want to reserve a whole camping space: Dispersed campsites.
According to the BLM, you can find these sites along secondary unmarked roads. In most cases, you can tell it's a campsite based on the "telltale flat disturbed area" that signifies campers have frequented the site over time. Of course, not all campsites are clearly worn out - be environmentally conscious about disturbing new land to park your car or truck and roof top tent.
Lastly, remember that protecting the environment and public lands of Utah should always be the top priority. To avoid polluting your camping area, be sure to dispose of waste, sewage, and hazardous material at a designated dump.
Explore Utah in Your Roof Top Tent
Traditional tent camping in Utah can be an exciting way to explore the great outdoors, but a roof top tent can elevate your experience. From hard shell tents to four-season tents with skylights, we have an option to suit your wants and needs.
Exploring all of nature's glory that Utah has to offer can be made simple with a roof top tent. Check out our collection of roof top tents today!
---