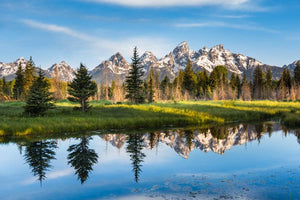 Discover Jenny Lake Campground at Grand Teton National Park Wyoming
Are you a nature lover and adventure seeker? Then Grand Teton National Park in Wyoming is a place you cannot miss. The park's beauty is beyond words, from the jagged peaks of the Teton Range to the crystal-clear waters of Jenny Lake, making it a prime spot for camping and outdoor activities.
In this blog post, we will explore the Jenny Lake campground and how rooftop tenting can enhance your Grand Teton National Park camping experience.
Grand Teton National Park with Rooftop Tent: Why it's Better than Tents on the Ground
Sure, traditional tents on the ground are great, but have you considered rooftop tenting? With rooftop tenting, you can escape any uneven or rocky ground surface and enjoy a smooth, peaceful, and comfortable night's sleep while being elevated from the ground.
You'll also enjoy unparalleled views from the top of your vehicle, giving you a new perspective on the picturesque surroundings of Grand Teton National Park.
What to Expect at Jenny Lake Campground
One of the perks of camping at Jenny Lake is easy access to the park's trails. The campground is situated at the base of Mount Teewinot and Cascade Canyon Trailhead. The hike to Hidden Falls and Inspiration Point is a popular hike for visitors and offers stunning views of Jenny Lake and the surrounding area.
Wildlife is abundant, so keep an eye out for elk, moose, and bears. If you're looking for a more challenging hike, head to the nearby Death Canyon, which features steep climbs, stunning vistas, and snowy plateaus.
It's important to note that the weather at Jenny Lake can be unpredictable. The park is located at a high altitude, and temperatures can fluctuate rapidly. Even in the summer, it's a good idea to pack warm clothing and waterproof gear.
And remember, the summer months are the busiest time of the year, and the park can get crowded. Consider visiting in the spring or fall for fewer crowds and better access to the park's trails.
Jenny Lake Campground Tent Camping
Jenny Lake Campground is one of the most popular campgrounds in Grand Teton National Park, thanks to its proximity to the beautiful Jenny Lake.
The campground is incredibly accessible and accommodating, with several campsites, bearing wood and metal tent platforms and fire pits. The campground also has toilets (a must for some campers), drinking water, picnic tables, and an amphitheater for ranger-led presentations. You are in for a memorable outdoor experience if you choose to set up your rooftop tent here.
How do you get a Spot at Jenny Lake Campground?
Since Jenny Lake Campground is popular, making reservations is always recommended. The campground operates on a first-come, first-served basis, but some campsites could be reserved in advance at Recreation.gov. Reservations can be made six months in advance from the park's official website or by phone.
Can You Swim in Jenny Lake Campground?
Yes, you can swim in Jenny Lake. With stunning vistas and crystal-clear waters, it's a popular spot for water activities. However, keep in mind that the water may be cold, no lifeguards on duty, and natural hazards such as sudden weather changes or underwater obstacles.
Are There Showers at Jenny Lake Campground?
No, there are no showers at the Jenny Lake campground. However, there are nearby lodges that have shower facilities for campers to use at a small fee.
Can You Sleep in Your Car in Grand Teton National Park?
Yes, you are allowed to sleep in your car at the campgrounds in Grand Teton National Park if you have a campsite. However, it is advisable to park at designated parking areas and camp only on established sites. If you try to sleep in your car anywhere but a designated camping area, you will be asked to move.
But let's be honest; sleeping in your car is a great way to get a stiff neck. It will never be as comfortable as tenting or rooftop tenting, so consider that when planning your camping trip. If you're looking for an affordable and comfortable tent that you'll use for years to come, try a soft shell roof tent.
How Long Does it Take to Hike Around Jenny Lake?
The hike around Jenny Lake is approximately 7.5 miles and can be somewhat challenging. But as you walk around the lake, you'll feel your soul immersed in breathtaking scenery, including gorgeous forested trails, towering cliffs, and waterfalls. The hike usually takes around four hours on average, and it's highly recommended to do it in a clockwise direction.
Grand Teton National Park Could be Your Next Adventure
Camping in Wyoming at Grand Teton National Park is an incredible destination for outdoor enthusiasts. You cannot go wrong with rooftop tenting at the Jenny Lake campground, thanks to its accessibility and beautiful setting.
Whether floating on Jenny Lake, hiking the trails, or just lounging around watching the sunset, you'll make unforgettable memories while staying comfortable in your rooftop tent. So, put the park on your bucket list, make your reservations early, and remember your rooftop tent. Happy camping!
---