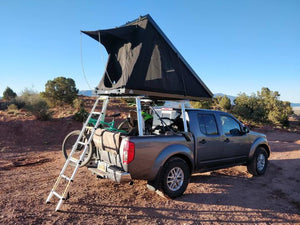 How to Set Up a Rooftop Tent
Camping can be one of the most relaxing and restful experiences, and the right equipment helps! At Hutch Tents, we love the idea of becoming one with nature. There's nothing more glorious than sharing land with wildlife, and being in awe of Mother Nature - but, there is always the risk of inclement weather, furry friends (cute and scary) and a bad night's sleep when camping.

A rooftop tent removes most of the potential negatives from the camping equation! A Hutch rooftop tent can offer more protection from inclement weather conditions, reduce your chance of coming in immediate contact with four-legged friends and provide more comfort than a ground level position. Additionally, you'll be able to take advantage of making virtually any location a spot for camping and outdoor adventure.
If you're new to the rooftop tent game and you're not sure where to get started, consider this your quick guide to rooftop tent set up and success:
Ensure Your Roof Racks Are Ready to Go
As long as you have properly installed conventional roof racks on your truck or SUV, you're in good shape to install your rooftop tent. It's in your best interest to check your manufacturer's roof rack system to make sure the weight of you and your tent will be fully supported. The dynamic weight capacity should cover the tent's weight; your own weight and the weight of the tent hinge and ladder will be properly dispersed while the tent is in use. 
Install Your Tent 
Once your tent is properly placed and anchored on your roof racks, you are ready to set up your sleeping space just like the Olympus 2 pictured above. 
1. First, remove the cover. Next, slide the ladder toward your body so it extends out and you can fold out the tent and pull it down toward your feet. The tent's foundational structure will be pulled down toward you as you bring the ladder to the ground, giving the tent it's "legs" to remain elevated and structurally sound in the air.
2. You will then add the support bar to the end of the tent - or the space that folded out from the middle of the structure.
3. If you don't want to attach the annex of the tent to your vehicle, you can place anchors in the bottom of the fabric to peg it down and keep it from moving.
4. Lastly, don't forget to install the window rods to ensure proper ventilation as you sleep. 
And just like that, you have yourself a durable, high quality accommodation that will elevate your camping trip - literally and figuratively! 
Once you've installed your rooftop tent you are 60 seconds away from your perfect Rooftop Tent Set Up!
Purchase Your Rooftop Tent
There are many advantages to owning a rooftop tent, but one of the biggest is how simple it is to install. Our tents can be fully assembled and disassembled in just 60 seconds. In just a short amount of time, your vehicle becomes your living space and gives you the leverage to become one with the environment and enjoy your outdoor experience to its fullest potential.
Now that you know exactly what you're doing, it's time to invest in your camping comfort. Browse through all of our rooftop tent options so you can explore the natural world in style and comfort.
---