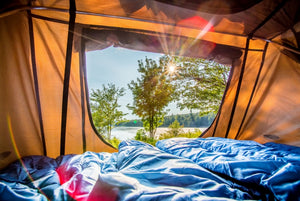 How to Select a Roof Top Tent Mattress Topper
Investing in a roof top tent is the easiest way to take your love for nature and exploration to the next level. The convenience of mobility, safety and security, ease of setup and efficient use of space are some of the many benefits of a roof top tent, so it's important to make sure your sleeping quarters match the high quality experience. Low quality roof top tent bedding can mask those advantages if you're not getting a good night's sleep.
Are you in the process of buying a roof top tent mattress replacement? Here's how to find the right RTT mattress for you:
Pay Attention to Thickness
If you're looking for great sleep under the stars, you have to consider the thickness of your roof top tent mattress. Otherwise, your body will quickly learn that it's lying on top of a car panel. We recommend finding a mattress that's at least 2.5 inches thick to provide a comfortable barrier between you and the hard exterior of your vehicle. 
If you can't find the right mattress, you can also purchase a mattress topper. This is a simple fix that can go a long way. 
Find Something that Promotes Cooling
If there's one thing about camping in the wild, it's that in most cases, you'd rather be cold than hot. This is especially true when it comes to sleeping outdoors - you can always add or lose layers of clothing and blankets but you can't always mask heat and humidity. 
When shopping for a RTT mattress, keep breathability in mind. Small, confined areas that get overheated are prone to moisture problems, and the same can happen in your tent. A mattress pad for condensation can create better airflow, promote a refreshing atmosphere and make it easier for you to get to sleep. 
Consider Durability 
Your roof top tent is going to join you on backpacking trips, camping excursions and all-around outdoor activities. This means it's going to get dirty.  Make sure you find a mattress that promotes durability and can be easily cleaned and maintained over time.
Start Your Experience with Hutch Tents 
At Hutch Tents, we want you to have a high quality camping experience from the start. All of our tents are equipped with cozy 2.5-inch thick high-density foam mattresses, and each includes a washable fabric cover for simple maintenance. 
Camping has never been more convenient, accessible, and comfortable. Check out our selection of
roof top tents
with comfortable mattress to find the best option for you.
---