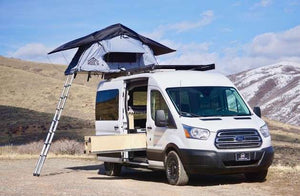 Here are a Few Reasons to Choose an Insulated Roof Tent
Winter Camping Can Be Wonderful
When it comes to winter camping, there is so much to do. From cross country skiing and snowshoeing to hunting and ice fishing, to simply getting out in the frosty air and experiencing an entirely new kind of climate. And part of your camping gear should be a hard-top roof top tent, made with insulated tent material to keep you warm and dry.
Winter camping can be a real pain if you're trying to pitch a tent in the snow. You have to clear out an area to put your tent, lay down several layers of tarps to keep you as insulated as possible from the snowbed that you're going to be sleeping on top of, and try to keep your tent dry.
But a roof top tent allows you to get the winter camping experience without needing to ever set foot in the deep white powder, let alone struggle to set up in it.
Wind Can Really Wear You Out
Not only does a hard top roof tent make winter camping easier, but it also makes camping in windy conditions so much better. The insulation provided by the tent material, combined with the shell roof top tent, means that cold winds are not going to howl through your shelter.
Cold weather winds, storms, and driving rain won't be a problem in a shell tent because it's made to take a beating and keep you warm. They really are the perfect tent for winter camping–or any time that cold air blows.
Don't Let the Seasons Dictate Your Fun
There is no reason any time of year–summer, winter, autumn, spring–should be off-limits to campers. With a shell rooftop tent that is fully insulated, including insulating from the floor, these are all-season tents. No more freezing nights where you're desperate for body heat, and no more cranky mornings waking up after a terrible sleepless night.
Insulated Tents Are Your Doorway to Winter Adventure
You can literally stop anywhere and set up your rooftop insulated tent. No need for a campground, no need for a trek into the woods. Whether you're towing snowmachines behind your tent and ready to spend the days in the powder, or whether you want to take the kids tubing on the most significant hills, a shell roof top tent with insulation is going to make your dreams a reality.
Purchase Now!
Are you ready for a new adventure? Shop our roof top tents today.
---