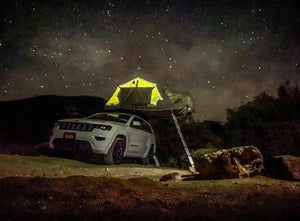 Top 5 Glamorous Camping Spots in Utah
If you love spending time in the great outdoors, camping in Utah is a must. From dense forests and the Great Salt Lake to sprawling sand dunes, there are plenty of unique Utah camping spots to check out. Plus, the warm days and cool nights are perfect for exploring in the sunshine and cuddling up next to a fire in the evening.
But if roughing it out in a tent isn't your ideal vacation, consider glamping instead! Read on for the best tips for glamping in Utah, including some of the best spots to spend the night under the stars and how you can transform your car into the ultimate glamping spot.
What's Glamping Anyway?
Glamping is the new way to camp in luxury. The word itself is a portmanteau of "glamorous" and "camping", which can give you a pretty good idea of what glamping is all about. Essentially, it's about experiencing the outdoors without sacrificing creature comforts like hot showers, running water, or plush beds.
Glamping can span everything from luxury cabins and safari tents to unique experiences like mountain top yurts with king-sized beds or tree houses with wood-burning stoves. No matter the case, what sets glamping apart from camping are the extra details that offer the comfort of home (or in some cases, extra luxuries).
If you've always wanted to camp but can't imagine going days without a comfy mattress and running water, glamping could be the best option for you!
Best Utah Camping Spots for Glamping
With over 7,000 campgrounds in Utah to choose from, there are plenty of opportunities for glamping in the state. While it would be impossible to name them all, here are a handful of the best camping spots in Utah with stunning views fit for a luxury glamping experience.
1. Zion National Park
In the past decade, visitation to Zion National Park has nearly doubled to join the small number of parks exceeding five million visitors a year. And it's no wonder why. The park is home to stunning, dramatic scenery from a sprawling desert to some of the world's best canyoneering.
While the park has three campgrounds, one of which is open all year round, many people don't know about the glamping experiences nearby. Though not directly located in the park, you can find a variety of unique glamping experiences just miles away from Zion's entrance.
Wake up in luxury with a view of some of the stunning plateaus and peaks the park is known for. Then, venture into the park a quick drive away to experience the cliffs and canyons you can't find anywhere else before returning to your comfortable bed.
2. Grand Staircase-Escalante National Monument
This is one of the best secret camping spots in Utah. Not many people realize they can camp. The Monument provides stunning views of the desert as well as cannons and the Colorado River. The extremely rugged landscape is one you can enjoy with a glamping tent.
Backcountry camping permits are required within the Monument for all overnight backpacking. While you will not find running water or electricity, if you pack correctly you can transform your canvas tent into a more comfortable stay while you enjoy the unmatched scenery.
3. Bear Lake State Park
Glampers often flock to Bear Lake State Park due to its blue waters combined with sandy beaches. There are seven state-owned facilities that provide boating access, and camping and day-use opportunities for glamping.
Another draw of this campground in Utah is the opportunity for the ultimate glamping experience. You can find companies like Conestoga Ranch that offer glamping in Bear Lake State Park. Choose from unique and luxury lodging options, including covered wagons and grand tents.
4. Goblin Valley
Don't overlook this campground in Utah for glamping. This strange and colorful valley is covered with sandstone goblins and formations, which is often compared to Mars. The campground at Goblin Valley State Park consists of 25 sites and two yurts.
The yurts in Goblin Valley are perfect for a glamping experience and were the first of their kind. Each is furnished and equipped with both heat and air conditioning. Sleeping arrangements include a single bed bunked on top of a double bed, as well as a futon couch
5. Boulder Mountain
Of course, we can't forget about boulder mountain. If you want to see the sites from up high, this elevated plateau is perfect. Much of the mountain is heavily forested, which is a nice change of pace from the dry deserts in the state. Also, the more than 80 small lakes on Boulder Mountain are perfect for cooling off or fishing.
There are numerous campgrounds on and near Boulder Mountain, many of which offer ample parking for camping from your car or RV.
Tips For Glamping in Your Car
While you can find plenty of unique glamping experiences in Utah, like Capitol Reef Resort, you can also camp in luxury from the comfort of your own car! Transforming your car or truck into the ultimate glamping experience on your road trip is possible with a hard shell tent from Hutch Tents.
Our hard shell tents come equipped with a cozy foam mattress so you can glamp in comfort and style wherever you roam. With a mattress and durable, easy-to-use tent ready to go, you're on your way to a more affordable, customized glamping experience in Utah.
Here are some other tips for what to bring when glamping in Utah:
Bring cozy bedding. Pillows, a comforter, and blankets will make your space feel like home (and help you sleep like a baby).
Add lighting. Even if you don't have access to electricity, a variety of battery-operated lamps or lanterns can create a stunning ambiance.
Have touches of home. Bring pictures or set up your space like you would at home. Extend your glamping experience from your hard shell tent to the outdoors by creating designated spaces for activities and your things.
Upgrade your meal planning. While everyone loves a good s'more or hotdog roasted over an open flame, elevating your meals can really make the experience glamping. There are plenty of ideas for curating the perfect glamping menu.
With these tips in mind, you're on your way to being the ultimate DIY glamper in Utah. Get started on your luxury camping experience today by transforming your car into a comfortable and convenient tent on the go. Shop our selection of hard shell tents today.
---