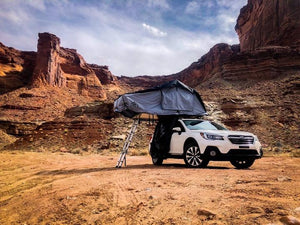 Finding the Best Car Camping Spots
It seems our drive to be outdoors has been greater over the past few years! Maybe thanks to Covid or maybe folks are just getting back to nature. Certainly it seems like there's more of a drive to camp than we've seen in recent decades and part of that might be new technologies and ease of camping with gear like rooftop tents! 
More people have been going out camping for the first time, and this means that campsites in popular locations are often booked months in advance. So what is the best way to find car camping spots in beautiful locations that aren't busy? Read on to find your nice camping spot! .
Online Resources 
Online is the first place that many people will look for car camping spots. Because of this, any area on a Buzzfeed-style listicle of "The Best Places to Camp" is sure to be busy on weekends during the warmer months.
One source to try first (if you are willing to pay for a good spot) is HipCamp. HipCamp is a camping spot booking site that allows you to book a spot on someone's private land. The advantage of HipCamp is that you can often find unique, intimate camping spots with services like bathrooms and communal kitchens.
Reddit is another good place to look for lesser-known spots that might be off the beaten path. Check out the subreddit for the area you will be visiting to go where the locals go.
Call the Forest Service or a Local 
At the end of the day, there's nothing better than some advice from a local. Call the local Forest Service office in the area you will be visiting to inquire about local camping that they offer, and ask about other opportunities too. 
People who work in the Forest Service are often happy to give you advice about the best outdoor activities to take part in around your campsite, and will also share tips about the best times to visit and important things to pack for the local climate.
Dispersed Camping
If you want to take a walk on the wild side during your next camping trip, research dispersed camping areas. 
Dispersed camping is a no-frills (no bathrooms, water, or garbage disposal) kind of camping where you can set up in National Forests and Bureau of Land Management (BLM) Lands. This kind of camping often requires driving on forest service roads, so a four wheel drive vehicle is a must.
But the reward is well worth it. There's nothing better than waking up beside a secluded lake or river with no other people around, and you don't need to worry about booking a campsite or paying reservation fees.
Dispersed camping is a good way to learn new camping skills and test out gear. Just make sure to pack out any garbage that you bring so that the location is left pristine for the next visitor.
And the ultimate car campaign experience is trying a rooftop car camping tent, where your home for the night pops up on the top of your vehicle.
Check out our wide selection of car camping tents, trailers, and accessories built for the modern adventure-seeker. 
---