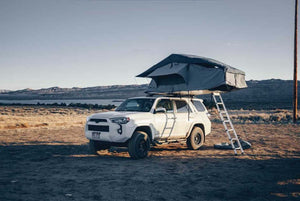 A Guide to Choosing the Perfect Car Roof Top Tent
Embarking on a camping trip can be a thrilling adventure, but the journey is only as good as the gear you have in tow.
One essential piece of equipment that can make or break your experience is the roof top tent. However, with so many options available on the market, finding the perfect one for you and your car can be a daunting task. That's where we come in.
In this comprehensive guide, we'll help you find the ideal roof top tent to make your next camping trip the ultimate outdoor adventure.
1. Assess Your Needs
Before diving into the search for your perfect roof top tent, it's crucial to assess your specific needs.
Consider the type of camping trips you generally embark on, the size of your car, and the number of people you'll be accommodating in the tent.
Will you primarily be camping in fair weather conditions, or should you expect extreme weather? Knowing your requirements can help you determine the right features and specifications you'll need in a roof top tent.
2. Explore the Different Types of Roof Top Tents
Roof top tents come in two main types: soft shell and hard shell.
Soft shell tents are lighter and less expensive, making them a popular choice for casual campers. They are easy to set up, and they provide good ventilation. If you're looking for a cozy and affordable off-the-ground tent for camping in good weather, soft shell tents are a great choice.
That being said, soft shell tents may not offer as much protection against harsh weather conditions compared to hard shell tents. They will also not offer as much protection or durability as their counterparts. If you plan to keep your tent for life, then the answer to which roof top tent is best may be the hard shell.
Hard shell roof top tents, like those offered by Hutch Tents, are more durable and long-lasting, designed to withstand extreme elements. They provide better insulation and can be set up quickly, making them an excellent choice for frequent campers who want a reliable, sturdy, and convenient tent.
While hard shell tents may be more expensive than soft shell, you will likely get more use out of them in the long run. So, you'll be able to outweigh the initial investment cost by how much you use your hard shell roof top tent and by how little you must repair or replace it. If you are a frequent camper in a variety of weather conditions, hard shell tents may be for you.
Hutch Tents offers hard shell roof top tents in a variety of sizes, providing you with greater longevity and reliability on your camping trips.
3. Understand Car Compatibility
It's essential that the roof top tent you choose is compatible with your truck or car's roof rack system. Most tents are designed to fit a variety of vehicles, but it's always best to double-check the tent's compatibility with your vehicle's make and model.
Make sure your car's roof can handle the weight of the tent, as well as the occupants and gear you plan to store in it. Check your vehicle's manual for information on its maximum roof load capacity.
4. Benefit from Ease of Use
Camping is all about enjoying the great outdoors, not struggling to set up your tent. Look for roof top tents that are designed with convenience and ease of use in mind.
Hard shell tents, for example, typically feature a quick set-up process, allowing you to spend less time assembling your shelter and more time enjoying the natural beauty surrounding you. And if you arrive at your destination in the dark, you want a tent that won't be a struggle to put up. There's nothing worse than trying to puzzle through your sleeping accommodations in the dark.
The ease of setting up and taking down your roof top tent is an important factor to consider, as it can greatly impact your overall camping experience. Some tents have quick and easy setup processes, while others may be more time-consuming and require additional steps. If you can, check out YouTube videos of people setting up the type of tent you want to get an idea of how difficult it is to do.
Look for a tent that offers a balance of speed, convenience, and security – especially if you plan to use it frequently.
5. Discover Comfort and Amenities
The last thing you want on a camping trip is an uncomfortable night's sleep. Look for car rooftop tents with high-quality materials, such as comfortable memory foam mattresses and adequate ventilation. Additionally, consider extra features and amenities like built-in storage, lighting, and anti-condensation technologies, which can significantly enhance your camping experience.
6. Explore Size and Capacity
When choosing a roof top tent, think about the number of people you plan to accommodate and the amount of space you'll require.
Most roof top tents are designed for two to four people, but larger options are available for those who require more space. It's important to note that the more spacious the tent, the larger and heavier it will be, so keep this in mind as you select the appropriate size for your needs.
Find Your Perfect Rooftop Tent
A roof top tent can be a game-changer for your camping adventures, but finding the perfect one for you and your car requires careful consideration.
Keep your specific needs, the type of roof top tent suitable for your trips, compatibility with your car, ease of use, and comfort in mind when selecting the ideal tent. With these factors considered, you're well on your way to discovering the ultimate adventure and creating unforgettable memories on your next camping excursion.
---