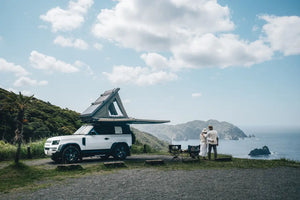 10 Best Overland Trails in Each State
As a lover of the great outdoors, there's nothing quite like exploring the wilderness with just a rooftop tent, your vehicle, and some gear. Maybe a four-legged copilot, too.
Whether you're a veteran overlander or just on the lookout for new trails to explore, this post will take you through some of the best overland trails in each state. We'll start with California, Colorado, Arizona, Wyoming, Utah, Washington, Alabama, Alaska, and Arkansas. Stay tuned for more to come.
At Hutch Tents, we get adventure. Setting up camp while you're 4x4ing through the desert should be as easy as finding a place to park. We're not heading out to set up shop in a crowded, paid campsite. With our range of premium rooftop tents, we make it easy to enjoy nature, wherever your adventure lands you.
Let's dive into some of the best overland trails across the USA.
1. California: The Rubicon Trail
We begin with a classic – the Rubicon Trail. Located in the Sierra Nevada Mountains, this is one of the most iconic 4x4 trails in the state. It leads you from Georgetown all the way to Lake Tahoe.
The trail spans 22 miles and features tough rock climbs and beautiful mountain views. With its stunning scenery, the Rubicon Trail is a must-see for overlander campers.
2. Colorado: The Alpine Loop Scenic Byway
The Alpine Loop Scenic Byway is an incredible, picturesque trail offering a unique look into Colorado's mining history. 19th-century miners used to cart ore through the rocky roads using mule-drawn wagons. So, remember that as you rip through the backcountry in your all-terrain vehicle.
If you're into spooky scenery, this one's for you. The overland loop trail passes through the historic ghost town of Animas Forks and the stunning Red Mountain Pass.
Prepare to see panoramic views of the alpine landscape as you cut through the heart of the San Juan mountains.
3. Arizona: The Apache Trail
The Apache Trail does not disappoint. This trail winds through the Superstition Mountains and features narrow switchbacks and steep inclines, with the first 5 miles climbing about 1,500 feet. The remainder of the trail is rated at a moderate degree of difficulty and provides gorgeous scenery.
4. Wyoming (and more): The Continental Divide Trail
The Continental Divide Trail (CDT) is a 3,100-mile-long trail covering many of the Western US states, including Wyoming. Because of its length, the trail is wildly diverse. You'll head through Yellowstone National Park, the Teton Wilderness, and the Absaroka Mountain Range, to name a few.
CDT has multiple access points in the state, and the Wyoming portion of the trail offers a range of gorgeous vistas and challenging terrain for adventurous overlanders.
5. Utah: The White Rim Trail
The White Rim Trail in Canyonlands National Park is a 100-mile loop circling around and below the Island in the Sky mesa top. It traverses some of the most scenic landscapes in Utah.
The trail White Rim Trail offers breathtaking views of the park's canyons and mesa tops, making this a great destination for nature lovers and photographers alike. You can expect to spend two to three days on a four-wheel drive to complete this loop. Just be aware, pets and fires are not permitted in this area.
6. Arizona: The Backway to Crown King
The Backway to Crown King is Arizona's jewel. The 30-mile dirt road is windy and steep, making it an exciting and challenging route for off-road enthusiasts. Be sure to take in the excellent views of the Bradshaw Mountains and the surrounding desert landscape.
7. Washington: Naches Pass Trail
If you're a history buff, Naches Pass Trail may be for you. This trail is a historic overland wagon route that extends from Western to Eastern Washington, opening up access to the Cascade Mountains. The scenic route features a variety of terrains, including forest trails and mountain climbs, making it a sought-after overlanding trail.
8. Alabama: The High Rock Trail
Just getting started? Or want to get a newbie stoked on overlanding? The High Rock Trail in Double Springs is a perfect overland park trail for beginners.
Take your time and enjoy the views along the six-mile round-trip route. The trail is well-marked, so no need for an overland trail map as you won't have to worry about getting lost. Just be sure to bring bug spray for those aggressive Southern mosquitoes. That, or keep your tent windows zipped.
9. Alaska: The Denali Highway
You can't go to Alaska without seeing the Denali Highway. It's a must-drive for overland enthusiasts. This 135-mile dirt road offers remote wilderness camping with panoramic mountain views —just set up your rooftop tent and enjoy the solitude. Keep an eye out for wildlife, as the area is known for grizzly bears, moose, and caribou.
10. Arkansas: The Ozark National Forest
Much like the popular Netflix show Ozark, the actual Ozark National Forest offers a wild, lush natural experience. The forest has several trails for overland camping, but the Buffalo National River Trail is a standout. With plenty of spots for fishing and swimming along the river, it's a great spot for a multi-day trip. Get prepared —and excited — for primitive camping with no facilities.
Don't Forget Your Gear
With Hutch Tents, you can enjoy these breathtaking landscapes in comfort and style, whether you're in the rocky peaks of California's Rubicon Trail, the alpine forests of Colorado's Alpine Loop, or the stunning vistas of Utah's White Rim Trail.
There's something for every overlander to explore when searching for overlanding trails near me. Pack your bags, load up your vehicle (with a
trusty overlanding rack
), and hit the trails – adventure awaits.
---