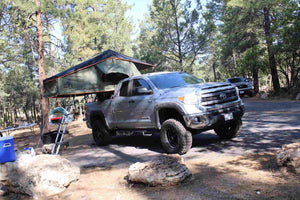 4 Best Overlanding Tents That Will Elevate Your Experience
Taking an offroad trip guided by the spirit of adventure requires a reliable shelter that effortlessly complements the journey. At Hutch Tents, we have some of the best overland tents that can help you achieve just that.

Whether you're roughing rugged terrain in your Jeep or navigating the secluded backroads in your Toyota Tacoma, a resilient and comfortable rooftop tent can elevate your trip to the next level.

Check out this guide as we explore four of the best overlanding roof top tents by Hutch Tents that provide shelter and adventure.
1. Ontario 4: The 4-Season Roof Top Tent With Skylights
The Ontario 4 is all about versatility and comfort in the world of overlanding tents. Suited for every season, it promises steadfast shelter and serene sleep across varying weather conditions and landscapes. Its spacious and inclusive design allows for 4 to 5 people and a few four-legged friends, too.

Highlighted by its skylights, it bridges the gap between shelter and an immersive experience with nature, offering amazing views with a roof over your head. In this way, it's not just a tent but a reliable, cozy refuge in the wild.

With a design that safeguards against the elements and potential ground disturbances, the Ontario 4 stands out as the best overland roof tent for explorers who want a blend of comfort, durability, and nature's embrace in their journey.
2. Arches 4 Hard Shell 4 Person Tent
Offering a combination of sleek design and practical utility, the Arches 4 Hard Shell Tent makes the perfect companion for overlanding adventures. Capable of comfortably accommodating 4 people, it ensures that family excursions into the wild are met with a robust and cozy shelter.

Created for all seasons, its high-quality rip-stop 420 D poly canvas W/R canopy fabric provides reliable resistance against water, mold, mildew, and harmful UV rays. This can give you peace of mind that you're protected against the elements. The incorporated high-density foam mattress encourages great sleep, while the included anti-condensation mat ensures an added layer of moisture protection.

Its sturdy construction with an aluminum frame, joists, sheets, and insulated foam, promises durability, no matter the weather or terrain. The side-opening mechanism provides ease of access and setup, while its compact packed size and aluminum ladder ensure hassle-free mobility and utilization.

And lastly, with a protective ABS shell travel cover, the Arches 4 stands out as a considerate blend of convenience, comfort, and protection in overlanding ventures. It's truly a must on our list of best overland rooftop tents.
3. Daly 2 with Skylights
The Daly 2 with Skylights stands out as an exceptional choice for the best overland tent for its design, convenience, and quality. Notably compact, with a width of only 24 inches when folded, it allows for additional rooftop storage, This is great for additional essentials or adventure gear.

The canopy and body fabric work against UV, mildew, mold, and water, providing a serene and safe haven when you're deep in the wilderness. It also includes a 2.5-inch thick high-density foam mattress, which is also removable for effortless cleaning. This feature speaks volumes to the tent's comfort and practicality.

The Daly 2 doesn't just offer a place to sleep but curates a comforting, reliable, and practical home away from home during your adventure. This ensures your explorations are met with restful nights under the starry sky.
Embarking on an outdoor adventure with the Apex 3 rooftop tent elevates your camping experience. Its blend of practicality, comfort, and durable design perfectly accommodates three people on your trip.

With its uncomplicated assembly and sleek soft shell rooftop design, this tent becomes a gentle retreat in the wilderness, while the telescopic aluminum ladder adds a layer of practicality and accessible elegance to your journey.

The Apex 3 does more than just meet your basic camping needs. It blends style and reliable quality into your adventures and ensures each one is full of comfort and convenience. So it's not merely a shelter but a natural haven during your adventures, creating cherished memories beneath the stars.
Shop Hutch Tents for Your Overlanding Needs
Navigating through the boundless wilderness with the best overland tent is a must, and that's where Hutch Tents steals the spotlight. When the secluded trails and tranquil camping spots call your name and you're ready for an adventure, Hutch Tents can help you navigate your overlanding trip.
Regardless of whether you're conquering the rugged terrains in a sturdy pickup truck or taking the backroads in your SUV, a durable, and comfy rooftop tent by Hutch Tents can transform your overlanding journey to the next level.
We also have overlanding accessories to ensure a comfortable and reliable trip, making every moment in the wild an exquisite memory. Shop our
roof top tents
and
accessories
today!
---