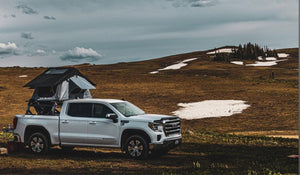 Are Rooftop Tents Worth It?
When an SUV rolls into your camping area with a rooftop tent strapped to its top, it's hard not to feel at least a little bit jealous. These high-tech camping tools have become popular for everyone from front country car campers to overlanders driving souped-up Jeeps. You have probably seen your favourite Instagram influencers snapping photos of their rooftop tents too.
But what's the big deal? Are rooftop tents worth it? What is the advantage of sleeping so high off the ground, and why is the average rooftop tent so expensive?
Camping Location & Overlanding
Many people don't know that rooftop tents first became popular with campers who wanted to sleep up and away from poisonous creepy crawlies and larger predators. In some parts of North America, animals like snakes, spiders, and insects can be an added danger to camping. 
Rooftop tents shine in situations where you may not have a dedicated spot to pitch a regular tent. This could mean sleeping on the side of the road or in parking lots if you are planning a long road trip.
Rooftop tents are also great for overlanding (traveling long distances in remote areas in a self-reliant way). Just remember you need to find a flat place to park, otherwise you will be having an uncomfortable night.
Vehicle Type
Rooftop tents are commonly seen on top of SUV's, Jeeps, pickup trucks. The best part of a Hutch Rooftop Tent is that it doesn't have to be a sports vehicle. Your car can hold a rooftop tent, just make sure to prep accordingly and just in on weight restrictions. You will need to ensure you have a third-party roof rack with the capacity to handle the weight of your tent.
Consider these specs when you are choosing between soft or hard shell roof top tents. The lightest rooftop tents weigh around 150 lbs, which can be too much for many factory-installed roof racks.
Large SUV's and trucks are much better equipped to handle the additional weight and drag of a rooftop tent. A smaller SUV or car will see worse mileage, and could even cause your vehicle's suspension to wear out quickly if you keep it on constantly. 
Finding Value For Your Money
The first thing many people realize when they first start looking for rooftop tents is how expensive they are. 
Of course, activities like camping and overlanding are not known for being cheap to get into. But many rooftop tents are priced in the $1,500-$5,000 range, and that's before you factor in the cost of a new roof rack setup.  Start small with our 2 man tent like our Prospector 2 With Skylights at the $1,500 price point and test the waters. 
Just like many aspiring rooftop campers, my wife and I experienced this sticker shock when we started looking for a rooftop tent. I was really looking for something comfortable to ensure my wife would enjoy the camping experience!
After a bit of research, I realized that the high costs in the industry were due to middlemen throughout the supply chain. 
Today, Hutch rooftop tents are some of the most reasonably priced models on the market. That's without sacrificing quality - or the features that make sleeping on top of your car more enjoyable. 
Check out our selection of soft and hard shell roof top tents today, and find out how we are disrupting the industry to get more people enjoying the outdoors beyond their backyard.
---