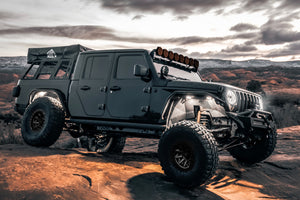 5 Reasons You Should Try a Rooftop Tent in 2021
2020 was a year like no other. From lockdowns to social distancing, it's no secret that we're all looking for an escape from a year that felt interminable. 
As you plan your well-deserved trips for 2021, have you considered adding a rooftop tent camping adventure to your must-do list?
If you haven't, it's time that you add this revolutionary way of camping to your outdoor excursion list. 
Increased Security
Let's face it: Animal invasions can happen when you're camping. Whether the bear snakes your dinner or the snake slithers into your tent, these interactions are never pleasant. 
When you opt to camp in rooftop tents, you eliminate the likelihood that an animal can gain entrance to your sleeping quarters. A ladder and a secure door flap go a long way in increasing your overall security.
Comfort
Even if you have the Rolls Royce of air mattresses, sleeping on the ground gets old mighty quick. Most rooftop tents come equipped with a foam mattress, an infinitely more comfortable sleeping experience than the ground. 
In addition to nocturnal comfort, rooftop tents also have hard, even bottoms, unlike the lumps and bumps of natural terrain.
Durability 
Your classic ground tents experience a lot of wear and tear. If you opt for a hard shell rooftop tent, you can expect years and years worth of adventures without any rips, tears, or other eventualities. 
Because hard shell rooftop tents are made from materials like aluminum, they are much more durable than their grounded counterparts, which makes them a better investment in the long term. 
Set Up 
Setting up a ground tent can be arduous. Add in rain or wind and it can be downright unpleasant. 
Rooftop tents, however, are made to be easy-to-use and even easier to set up. Most rooftop tents allow you to leave your bedding inside of them as you travel, so you don't need to repeat processes. Most importantly in terms of ease, after you park your vehicle at your desired camping site, you only need to undo a few latches and your tent springs instantly to life, 
Space and Storage
If you're going on a camping trip, it's inevitable that you're going to have a lot of gear. Wouldn't it be great if you could use the extra room your tent takes up to bring more provisions? With rooftop tents, you can maximize your vehicle's space since the tent travels on top of your vehicle. 
Rooftop Tens Conclusion
Regardless of where you roam, when you incorporate rooftop tents in your camping plan, you reap benefits. 
What's more, you up your comfort level across the board, ensuring that every trip is not only physically comfortable, but emotionally comfortable, as well, given the added security assurance.
So before you make plans for your next camping trip, make sure to invest in a rooftop tent. 
Buy your rooftop tent today!
---