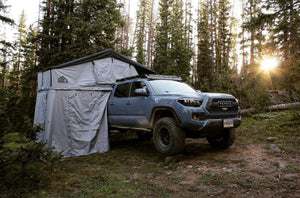 5 Reasons to Get a Truck Rack Tent
Camping is a great way to get out and enjoy the outdoors; taking a break from the hustle and bustle of the real world offers an opportunity for peace, tranquility, and a general appreciation for nature.
Getting the ultimate experience from Mother Nature doesn't have to involve a traditional tent. A truck rack tent is worth the consideration, allowing you to travel with your sleeping arrangements wherever you go.
Here are five reasons to get behind roof top tents for trucks:
1. Stay off the Ground
Gone are the days of placing your tent in a muddy pit at a campground or unlevel terrain in the wild. Elevated off the ground, truck rack tents are designed to keep you from sleeping at ground level so you don't have to worry about inclement weather ruining your camping experience.
2. Reduce Campsite Set-Up Time
Setting up a traditional tent can take a substantial amount of time. Roof tents for trucks reduce the extensive setup time - in this video, you can see that it only takes a few minutes to fully assemble your truck top tent.
3. Keep The Pests Away
Since your tent is off the ground, you don't have to worry about skunks, raccoons, and other pests messing with your sleeping arrangements. A truck top tent means reducing your risk of coming in contact with an annoying (or potentially harmful) animal that could ruin your camping trip.
4. Gain More Storage Space For Other Camping Gear
Camping oftentimes means packing the truck to the brim with gear, and unless you have a truck top tent, your traditional tent is included in the mix. Truck rack tents eliminate the need to save room for the tent when you're packing the camping gear and supplies.
5. Sleep More Comfortably
Let's face it: Unless you bring a high-quality blow-up mattress or mattress pad along for the camping trip, sleeping on the ground in a traditional tent isn't exactly comfortable. If you want to get a good night's sleep in the wilderness (without renting a cabin), a truck roof rack tent can make your rest more enjoyable.
The ground itself isn't always smooth, especially when you're camping in the middle of nowhere. A rooftop tent offers a smooth foundation for sleeping and can make all of the difference in your camping trip.
Camp in Style with Hutch Tents
If you enjoy spending time in nature and want a more revolutionary camping experience, explore Hutch Tents roof top tents for trucks and other vehicles. We have a variety of hard shell and soft shell models to choose from, giving you options and versatility in your adventure.
Shop our collection of roof tents for trucks and cars today.
---