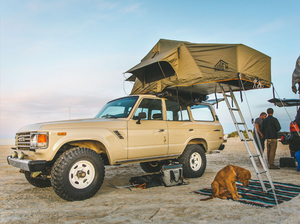 5 Best Rooftop Truck Tents for Camping
Camping is one of the most treasured American pastimes. Nothing but nature, the open road, and the warmth of a campfire to set your thoughts at ease. Camping with a truck lets you take your adventure even further, into the backroads and 4x4 trails of America's countryside.
If you love UTV camping and want to enhance your experience, you may be wondering what are the best truck tents for camping? We've compiled a list of the best truck camping tents on the market to help you get started.
1. Ontario 4 Truck Tent
The Ontario 4 is a large truck tent big enough for 3-5 people. This premium quality tent is durable, lightweight, and easily fits onto any truck or SUV. Equipped with a super comfortable high-density foam mattress, this tent is easy to set up and makes a great addition to your next camping adventure.
This family-friendly truck tent comes complete with added skylights so you can watch the stars from the comfort of your bed all night long.
2. Apex 3 Roof Top Tent
Hutch Tents ​​Apex 3 (pictured as the featured image above) is one of the most popular products in our inventory. This versatile tent is extremely lightweight and perfect for off-roading trips or 4x4 adventures. The Apex 3 fits up to three people and is entirely customizable to your needs.
The following features are included in your Apex 3:
Possibility to add an Annex

Simple assembly and disassembly

Suitable for three people

Softshell rooftop design

Telescopic aluminum ladder
3. Prospector 2 Roof Top Tent
The Prospector 2 rooftop tent is versatile enough to take on even the most complex of camping trips. Featuring a 2.5-inch high-density foam mattress and soft shell rooftop design, you'll have the serenity of outdoor camping alongside the comfort of home.
Add a 420-denier polyurethane-coated polyester annex to any Prospector purchase.
4. Miner 2 Roof Top Tent
The Miner 2 is one of the best hardshell truck tents for camping. This durable tent is UV-protected, waterproof, and includes a telescopic ladder for easy access. Perfect for three seasons out of the year, the Miner 2 comes equipped with a 2.5-inch high-density foam mattress with a removable cover for easy washing.
5. Olympus 2 Roof Top Tent
Interested in camping in a pickup truck bed? The Olympus 2 is an all-season hardshell truck tent for camping that is proudly USA-made. This durable tent is super versatile and comes in a variety of colours and fabrics to suit your need.
Here are some of the best features of the Olympus 2:
Hardshell exterior

Telescopic ladder 

Option of adding a roof rack

Nylon canopy

Water-resistant
Buy Your Truck Tent for Camping Today!
With this comprehensive truck tent list, you'll be well on your way to your next outdoor camping adventure!
Remember to choose Hutch Tents for all of your rooftop tent and truck tent camping needs. Check out our latest truck tent collection and buy your truck tent for camping today!
---