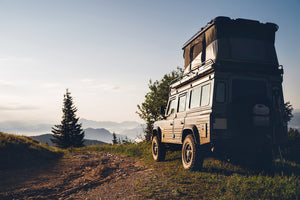 Explore Campgrounds with A 4 Person Hard Shell Rooftop Tent
Camping is one of many ways to embrace the great outdoors and gain a different perspective on life. When you spend most of your days rolling with the punches, it's easy to forget how beautiful and simplistic nature is, and how calming it can be for you. Camping allows you to take a step back from the chaos and instead breathe in the fresh air, embody the flow of the wind and the rays of sunshine and appreciate the surrounding wildlife that make nature so beautiful.
Instead of renting a cabin, investing in an RV or resorting to traditional ground tent camping on your next outdoor adventure, you may consider a hard shell rooftop tent instead.
Roof top tents are designed to improve the camping experience by reducing time spent setting up camp and allowing you to simplify your living arrangements. While most models are one- to two-person roof top tents, there are other options available for families and larger groups of friends. A hard shell rooftop tent 4 person model might be the best choice for you if you're planning on bringing others on your camping trip.
Let's take a closer look at the benefits of investing in a 4-person hard shell rooftop tent, and the reasons to consider Hutch Tents when it's time to make the investment. 
4 Benefits of a 4 Person Rooftop Tent
Investing in a roof top tent for the whole family can open up endless possibilities for travel. Here are a few of the many benefits of getting a hard shell rooftop tent. 
1. Minimize Packing
Packing the car for a camping trip can get overwhelming. Food, clothing, and other necessities can pile up quickly, especially if it's not a solo trip. By investing in a rooftop tent, you don't have to worry about packing up a tent and can use the space for other useful supplies. 
2. Easy Travel from One Spot to the Next
Are you planning a cross country roadtrip? Have you considered a weeklong camping trip across a specific region of the nation? A rooftop tent simplifies the moving process. Instead of breaking down and rebuilding the structure of your tent at each destination, you'll save time and effort by utilizing your roof top tent. 
A hard shell rooftop tent, specifically, will take minimal effort to build and secure when it's time to park in your next camping spot.
3. Soak up the Great Outdoors 
Camping styles vary from one person to another. Some love to rough it, while others prefer "glamping," which normally involves cabin-style accommodations, according to the KOA. If you want your camping experience to be similar to the former, a rooftop tent can help you get there. This recreation option reminds you of the simplicity of camping and embracing nature - with only a mattress and overhead protection from the climate, a roof top tent is meant to help you soak up the environment for all its worth.   
4. Lower Your Gas Mileage
According to Survival Freedom, vehicles lose about seven miles to the gallon on average when there's an RV in tow. While adding a hardshell roof top tent to your vehicle will weigh it down and impact gas mileage, the difference won't be as significant as if you were pulling a trailer. 
Where Can You Take Your Rooftop Hardshell Tent?
One of the best aspects of rooftop tents for SUVs and trucks is that they make it easy to camp wherever you want. You can load up your vehicle and take your camping excursions to a campground, but rooftop tents also make it simple to camp from just about anywhere. 
In some states, you can camp just about anywhere that you can park your car. The U.S. National Parks Service highlights some of the different places you can camp, from areas in the wilderness that have been barely touched by human hands to front country camping options at state parks. Dry camping, also known as boondocking, is also a great option for campers who want to make their way deep into nature and disconnect from the hustle and bustle of life. 
Roof top tents that rest on a car or truck make traveling across the country a simple, efficient way to discover nature and appreciate the finer things in life. 
Here's Why to Choose Hutch Tents  
As one of the most accessible ways to get outside and embrace everything Mother Nature has to offer, we find the best adventures come from roof top tent camping. At Hutch Tents, we have a variety of soft and hard shell roof top tents that can fit seamlessly on most conventional trucks, SUV, and hybrid crossovers.  
We design all of our rooftop hard shell tents and soft shell tents with durability and quality in mind to make it easy to camp whenever you want, wherever you want. Whether you're planning a camping trip on the sandy beach or want to stay tucked away in the mountains, there's a tent option for you.
Affordability is also one of our top priorities. We understand how pricey hard and soft shell roof top tents can get - roof top tents on the market today can be a major expense - and want to make your camping experience a smart economical decision. By sourcing tents directly from our manufacturer, we can cut out the middleman and save costs that ultimately benefit your purchase decision.
Are you ready to embark on a seamless journey through nature? Learn more about our rooftop tents and grab your 4 person roof top tent today so you can start the adventure. 
---